"Success is not delivering a feature; it is learning how to solve the customer's problem." - Eric Ries
At Automizely, we keep our customer's experience above all.
As most of our customers use Automizely Marketing for designing beautiful email subscription popups & capturing leads and Klaviyo for sending emails to their subscribers, we decided to delight our customers with yet another smooth integration.
You can now integrate your Automizely Marketing account with Klaviyo in just a matter of a few minutes. With this integration, you can automatically sync popup subscribers to Klaviyo, which constitutes both old and newly added subscribers.
Klaviyo is a powerful email and SMS marketing automation tool that helps its users deliver personalized, memorable experiences across a wide range of marketing channels, including email, SMS, web, and in-app notifications.
Unlock the power of personalized marketing
Integration of Automizely Marketing with Klavio can open the doors of personalized marketing for you, wherein you'd be able to send personalized, better-targeted emails in a matter of seconds. Klaviyo's Flow Builder can help you automate touchpoints across the entire customer journey, and the pre-built templates get you started quickly with personalized messages.
Sit comfortably and enjoy reading how Automizely and Klaviyo can enhance your lead capturing and nurturing process -
Beautiful call-to-action popups – Leverage Automizely Marketing's beautiful pre-built call-to-action popups or customize your own email signup popups and increase your opt-in rate manyfold. All this, without any need to write a single line of code.
Full sync of data – Automizely Marketing works seamlessly with the integration to automatically push all the subscriber data to Klaviyo and help you start with your campaigns right away.
Automatic Notifications – The moment a new contact activity is detected in your Automizely Marketing account, you get notified to help you push Klaviyo emails instantly to your new subscribers.
Pre-built flow templates – Get access to Klaviyo's library of pre-built automation and email templates that are optimized for all types of devices, including mobile devices.
Targeted Campaigns – A solid subscriber base coupled with personalized emails based on product recommendations can take your targeted campaigns to the next level. Well, that's all you need to increase your conversion rates and grow your revenue at a brisk pace.
How to integrate Automizely with Klaviyo?
The integration hardly takes a minute to set up. Just follow the steps below, and you are good to go -
1) Log in to your AfterShip organization account and go to the Klaviyo app page under Automizely Marketing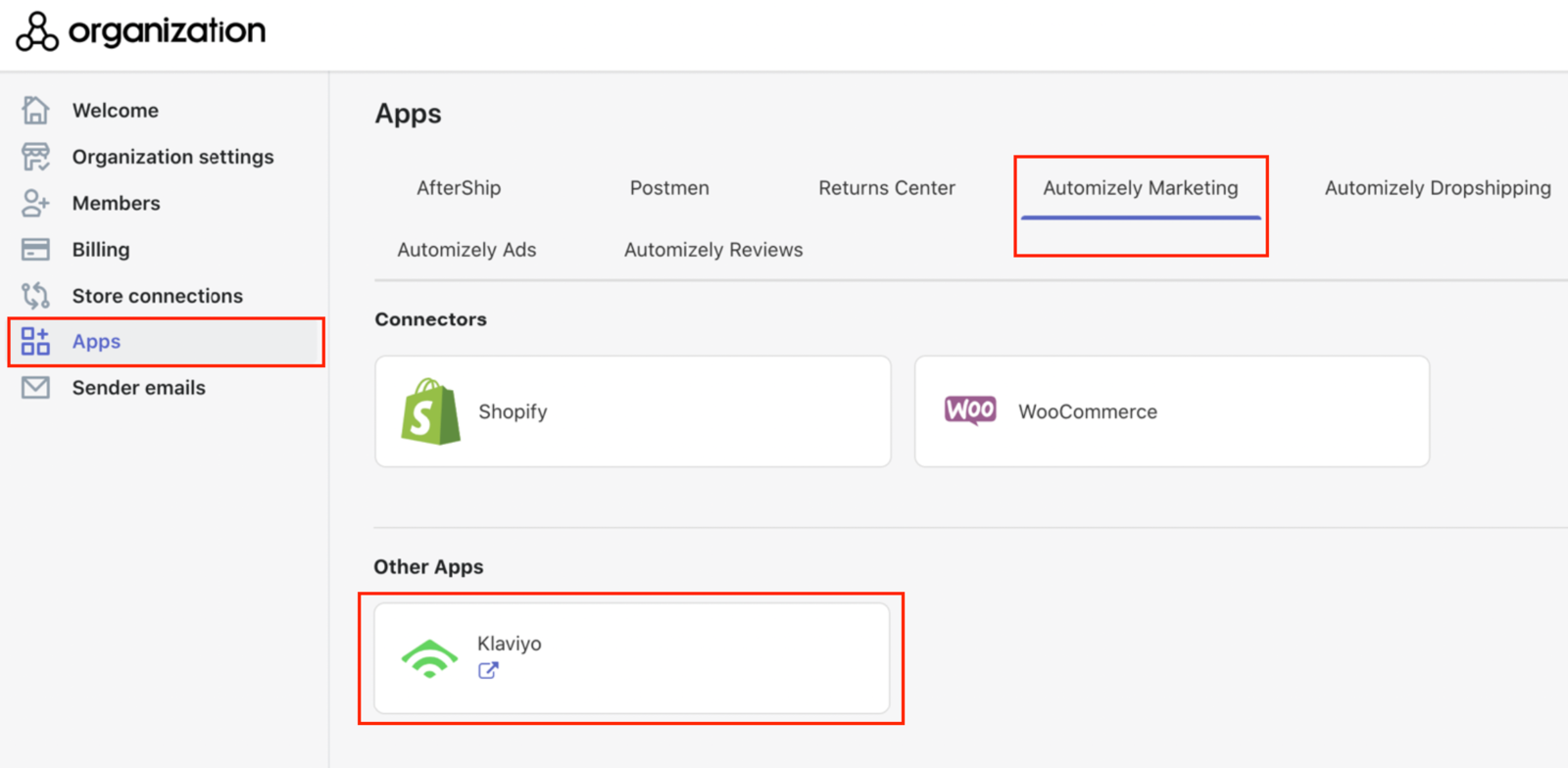 2) Input your Store URL, Private API key, and Public API key and click on "Connect" (You can easily generate the API keys here)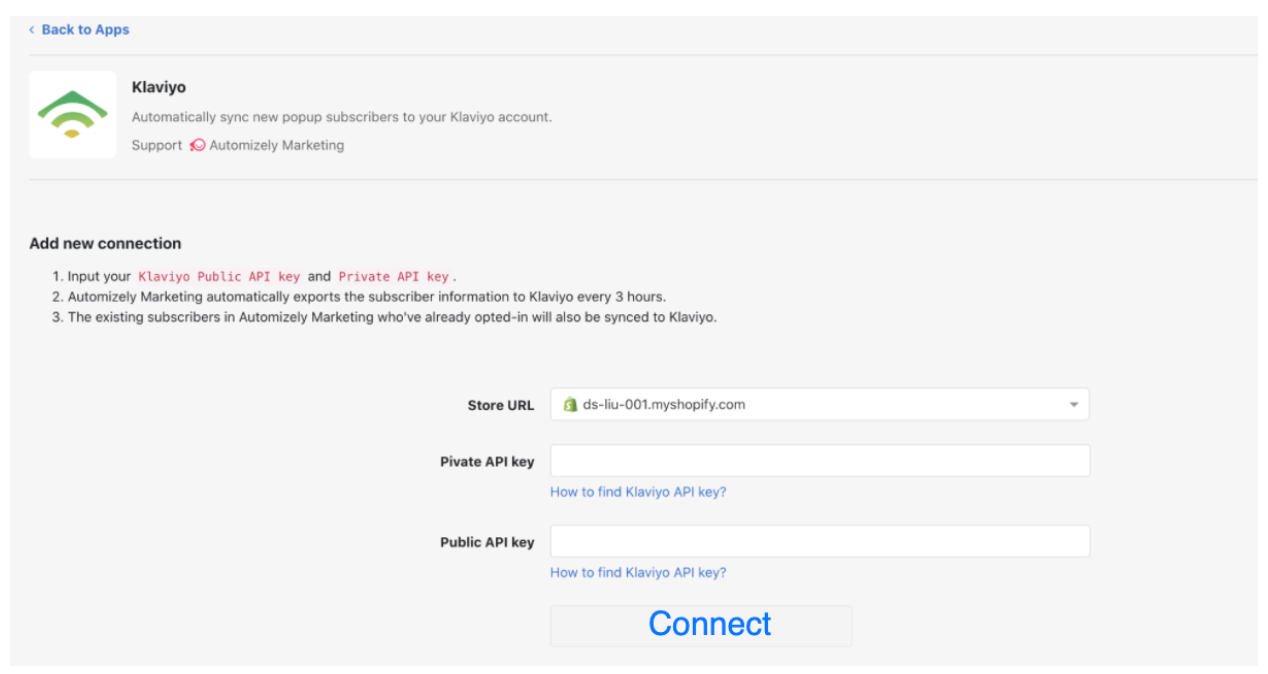 Feel free to refer to the help article for more details.
Post integration, Automizely will automatically export the subscribers to Klaviyo every 3 hours. The new subscribers added to the list will by default fall under double opt-in, which means that every new user who subscribes through popups will receive an opt-in email to confirm the subscription. Once the user confirms the subscription, his/her details will be added to your list.
If you want, you can easily change the opt-in process to "single opt-in" manually through Klaviyo admin account.
What data syncs to Klaviyo?
You will be able to collect the following information -
Name
Email
Phone number
Birthdate
Advanced fields (available under Custom properties in Klaviyo)
It's time to get your ecommerce business up and running faster, and that's the reason we have opened the doors to the most powerful integration when it comes to email/SMS marketing. And it takes just a minute to set up. So get ready to deliver memorable experiences, create stronger relationships, and drive more sales. 😊