J.CREW is a retail platform that specializes in apparel and accessories. Its online store incorporates a lot of interesting marketing tools and techniques.

📊 Website Metrics
🌍Alexa ranking: # 3523 (website: jcrew.com)
🇺🇸Country: US
🏗Industry: Retail(Apparel)
📆Analysis date: 2019-12-04
We have summed up the key points that set J.CREW's website apart...
🌎 Popup for Geolocation
Determining the location of shoppers is very essential as it directly affects product prices and courier costs.
J.CREW reads the location of shoppers. If it is unable to detect, it immediately pushes a Popup requesting shoppers to specify a location.
🎨 Highlight offers and discounts
On the homepage, you are bound to notice two key elements.
The banner on the homepage uses Winter's festive colors like green and red. The top menu bar highlights Gift and Sale smartly capturing attention.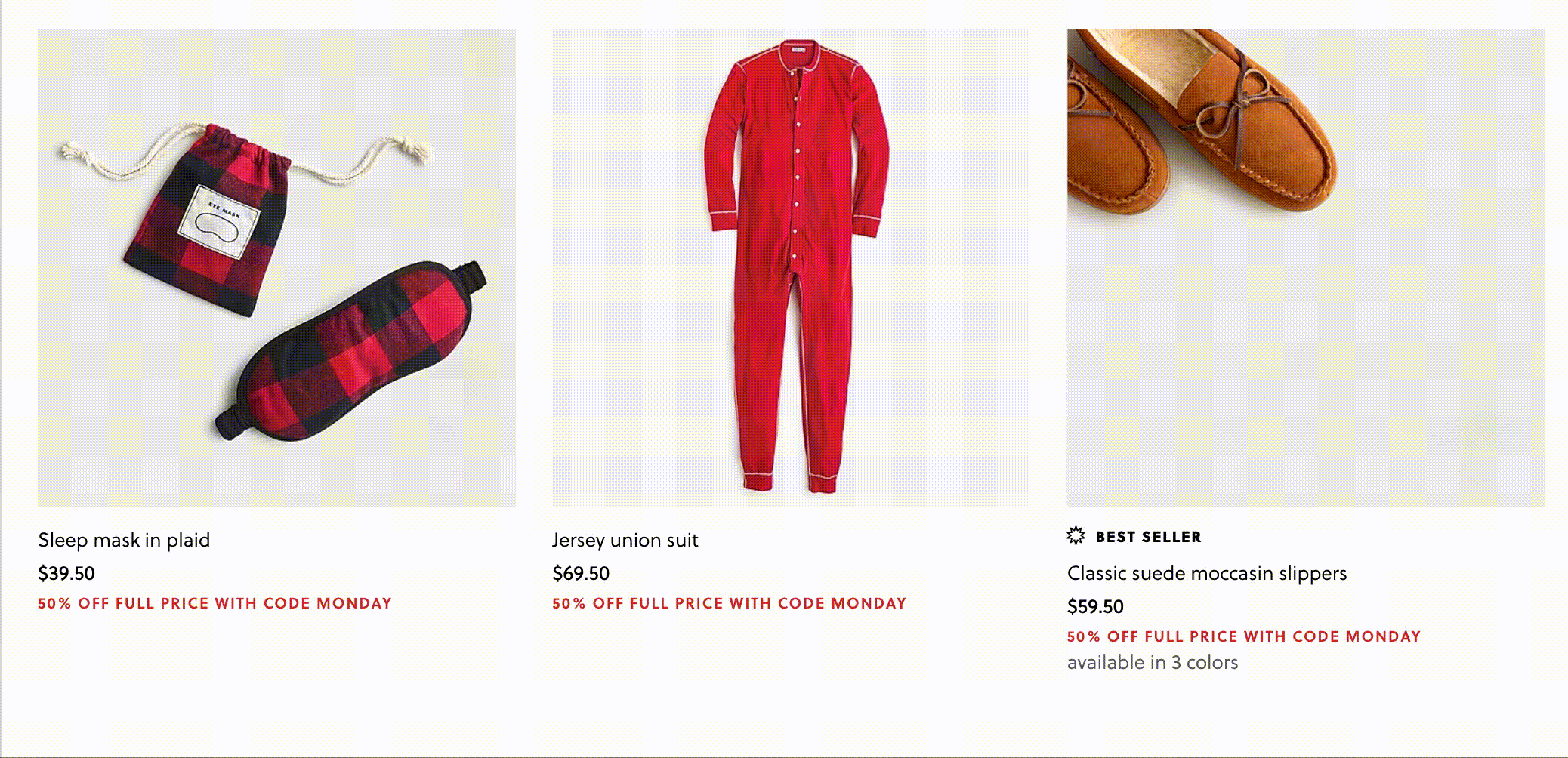 J.CREW's product list pages also are dynamic and attractive.
🎫 Sales stickers
J.CREW uses four different sales stickers on the product list page to engage shoppers and capture their attention.
They are
🏅 Bestseller
🏆 Top rated
🎉 New
⏰ Only a few left
🔥 Recommended products
This strategy can be regarded as a crucial marketing skill of J.CREW. We have reasons to believe that it dramatically increases sales.
Using popups to display content instead of opening a new tab increases the conversion rate greatly.
J.CREW also uses a popup to display details related to a product.
In addition, "Shop the look" has been added to the left which displays some recommended products.
Very smart indeed!
If you have an online store, you too can use popups to display product-related information and give suggestions to your shoppers.
If using these elaborate details seems to be difficult, you can place an action button or picture next to the product.
It has also added "recently viewed" to the details page.
J.CREW surely takes a lot of effort to promote its products and reduce cart abandonment.
❣️We will update more marketing strategies and Popup use cases by J.CREW in our upcoming blog post.
⭐️⭐️ You can also enable popups and other marketing tools using Automizely, for free on Shopify.
Install now >>