Cyber Monday 2019 has just ended. We picked a few brands and studied their email pushing strategies in the past few days.
And then, we summarized several methods that we can learn from, and believe it will be helpful for Shopify sellers.


🎊 1.  Add holiday elements to the sender
That has the advantage of letting you get used to seeing who the sender is, and what the theme and key points of your push are.

Typical examples are GAP and Shiseido. The promotional emails of these two brands will add the text of different marketing nodes to the sender according to the famous festival.
GAP:
Shiseido:
If it is a regular email, you can learn from UGG. They combined the characteristics of their products and added the word "closet" to the sender:
😇 2. Appropriate use of emoji in the subject

Appropriately adding emoji to the subject will make your emails visible to the recipients and stand out from the inbox. For example, the following two brands like to add various emojis to the subject.
Estee Lauder
MVMT

🔗 3. Add a hyperlink at the top of the email

Most people read from the top down, so the position at the top of the email is crucial.

It seems that GAP and Shiseido like to use email templates, which include hyperlinked offers at the top of the email.

GAP

Shiseido

⏰ 4. Add a Countdown Timer to your email

These brands almost always use the Countdown timer in their emails to increase the sense of marketing urgency and stimulate conversion.

💡 Tool recommendation:

Automizely: Push Popup of Countdown Timer in your online store to stimulate purchase conversion.

What is more interesting is the new brand MVMT. They make watches. Combining their product characteristics, they especially like to add a countdown to the email:

Levi's
Adidas
💽 5. Proper use of GIF images

The proper use of GIFs in your emails can make your emails more attractive and make the recipients stay more focused on reading after they opened the mails.

Shiseido knows this. They like and often use this style of gifs: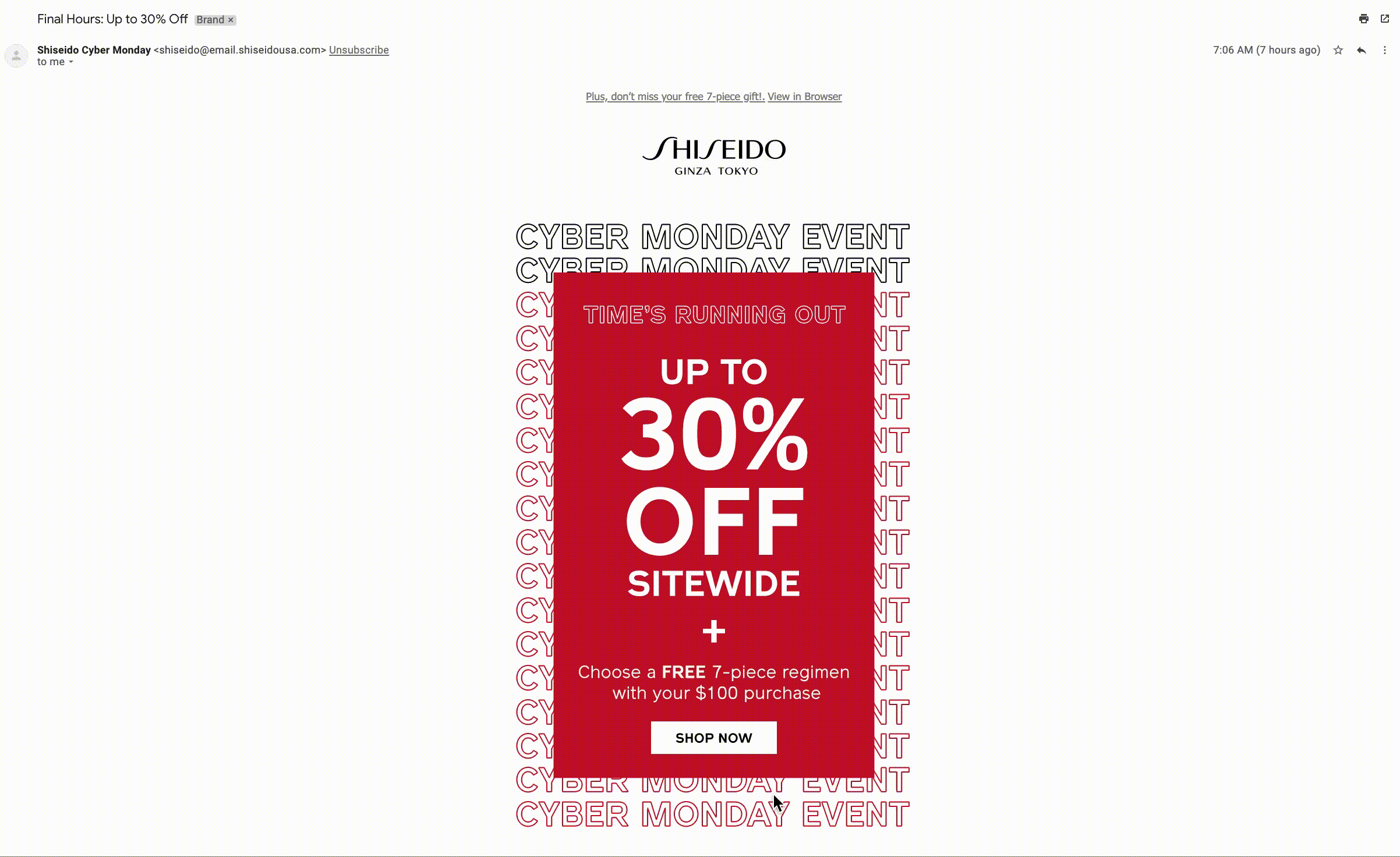 💌 We will update more emails marketing cases from famous brands in our upcoming blog post. Subscribe to our blog to view the latest articles.
🛎 If you are interested in pop-up, you can install it on Shopify Appstore: