Not sure how to increase your store's sales?
We recommend that you take a look at the UGG online store. It has been successful in engaging shoppers with its magical pop-ups and coupon bars.
Let's go through these in detail.

📊 Website Metrics
🌍Alexa ranking: #9788
🇺🇸Country: US
🏗Industry: Shoes
📆Analysis date: 2019-11-19
🔔Three magical pop-ups

Pop-up 1 - Information pop-up
UGG uses pop-ups to display valuable information. It has two benefits:
It captures the attention of shoppers being positioned on the center of the page.
And as new web pages are not generated, shoppers do not lose important information.
Pop-up 2 - Registration pop-up

UGG does not push pop-ups when the user is browsing a website. Instead, it presents a signup pop-up when shoppers click on any menu/button or on the site.
This significantly increases the retention rate.
Pop-up 3 - Information confirmation pop-up

After subscribing, a pop-up requesting for details is pushed. It requests information such as the birthday month and age range.
With this, UGG sends accurate and personalized marketing emails to its subscribers.
💯 Membership points
Yet another out of the box idea!
Every time a purchase is made, some membership points are awarded to the shoppers. These points can be redeemed to get discounts and offers.
💡 Highlight information
UGG's website is intricately designed. The homepage is simple and elegant in style.
When you look at this picture you are bound to notice how prominently the information is highlighted.
Also, the returns instructions are clearly mentioned.UGG understands that it is very important to have a clear returns policy that is easy to understand. Thus, it has clearly explained it in many places on the website.
Tool recommendation
AfterShip Returns Center provides a streamlined returns management solution to manage the entire workflow.
📄 Feedback page
Check our blogs on why your website needs FEEDBACK.
UGG's Feedback page is different from what we usually see.
It is easy to follow and shows the progress of feedback form completion at the bottom. Other Feedback forms, on the other hand, are lengthy.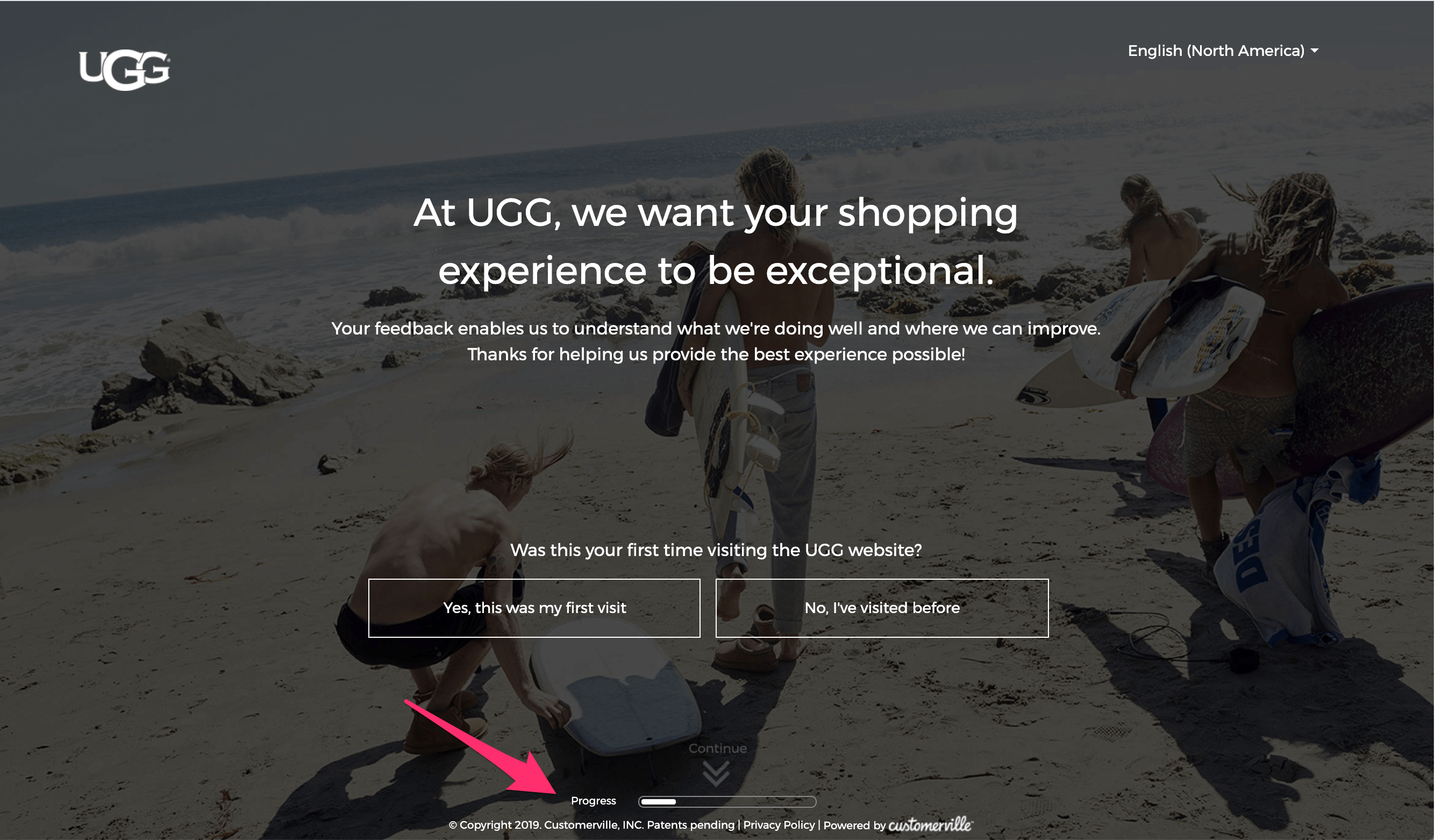 Want to know more about marketing strategies and how to use them?
Subscribe to our blog, to get updates about new marketing strategies dominating the eCommerce marketplace.
⭐️⭐️ If you also want to enable pop-ups,Install Automizely on Shopify App store for free