A landing page is an effective way to not only drive traffic to your store but also to improve your SEO and build your brand. If you want to build your store with beautiful landing pages, you must try Automizely page Builder and customize your store your way irrespective of the niches you are targeting.
Automizely Page Builder came up with a gamut of handy features to help you design your own compelling landing pages from scratch in just a matter of a few minutes.
Why are landing pages critical for your ecommerce business?

Here's how landing pages can boost your conversions and sales manifold -
Increase brand awareness & credibility: Create an eye-catching and fast-loading 'About Us' page to build brand awareness and brand credibility among your customers

Generate leads: Leverage the power of landing pages to attract new visitors to your store as they are the simplest yet most effective way to generate more leads that can become your potential customers

Boost SEO - Boost SEO of your store website with carefully structured pages having relevant and sales-driven keywords for your business

Promote special offers - Your online special offers won't give you much in return unless they are associated with a landing page, as landing pages gives a place for your offers to reside

Access to other marketing channels - Your landing pages can be a hub for other useful marketing channels, for instance, links to other relevant offers, social media profiles, or engaging videos & webinars
With Automizely Page Builder, it is relatively easier to create stunning, user-friendly landing pages, which can help showcase your brand, products and concepts in such a way that it boosts conversion rates and revenue.
Easily compatible with the Shopify Theme 2.0 release
As Shopify upgraded its Online Store with the new themes, Automizely page Builder allows its users to continue publishing their landing pages without any interruption with the latest Shopify upgrade.
Merchants can seamlessly publish their homepage, product pages, and collection pages while using Shopify Theme 2.0.
How to create beautiful landing pages for your Shopify store from scratch?

1) Click on the 'Regular pages' tab under your Automizely Page Builder Account to create your home page.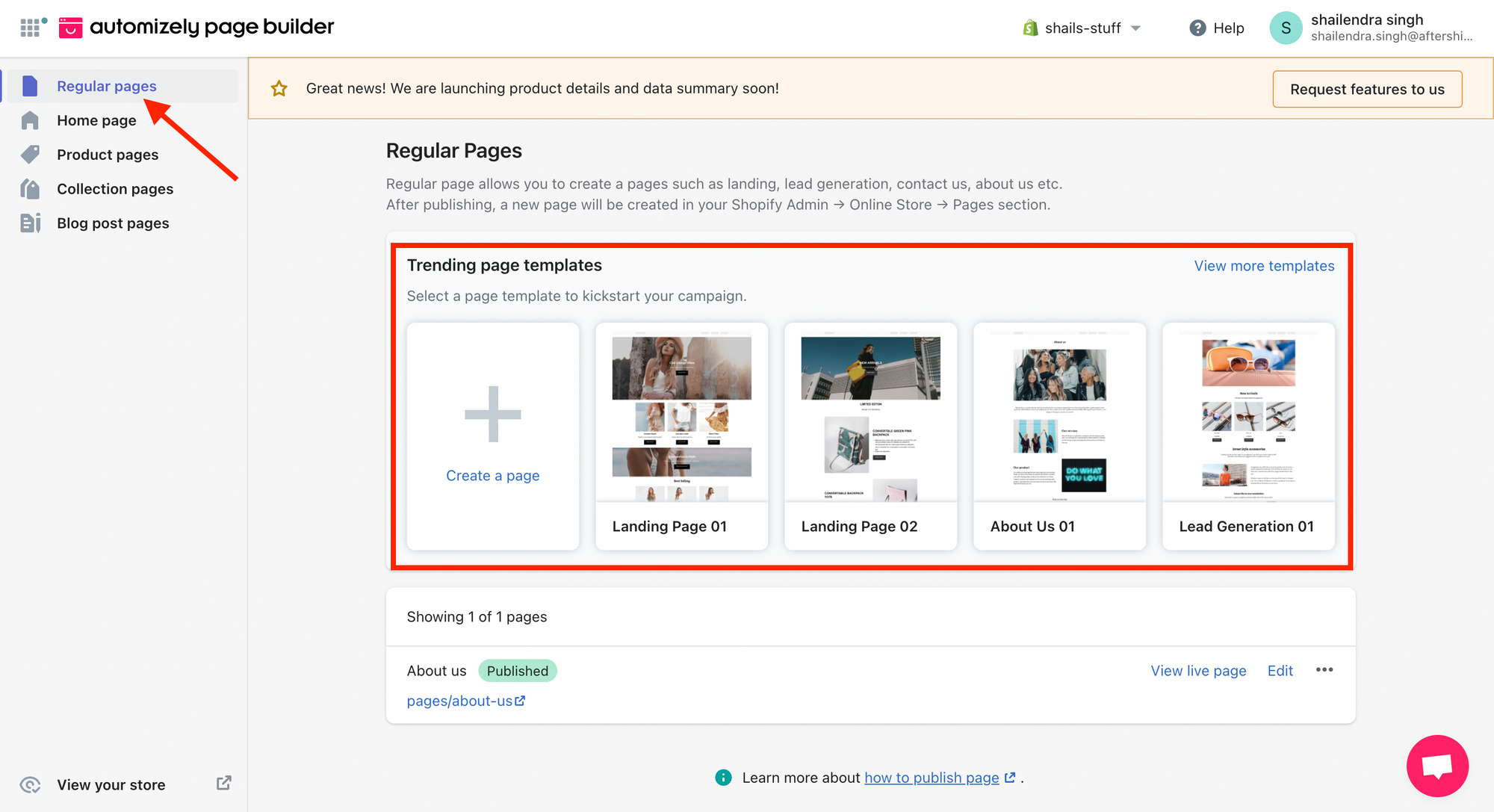 2) You can either select from the given page templates or create a fresh landing page from scratch
3) Access the 'Settings,' 'Content,' and 'Styles' tabs to design your landing page from scratch.
4) Under the 'Content' tab, click on 'Add section' to add 10 different blocks - 'Image with text,' 'Image with text overlay,' 'Text columns with images,' 'Product list,' 'Image gallery,' 'Image,' 'Text,' 'Button,' 'Form,' and 'Social links.'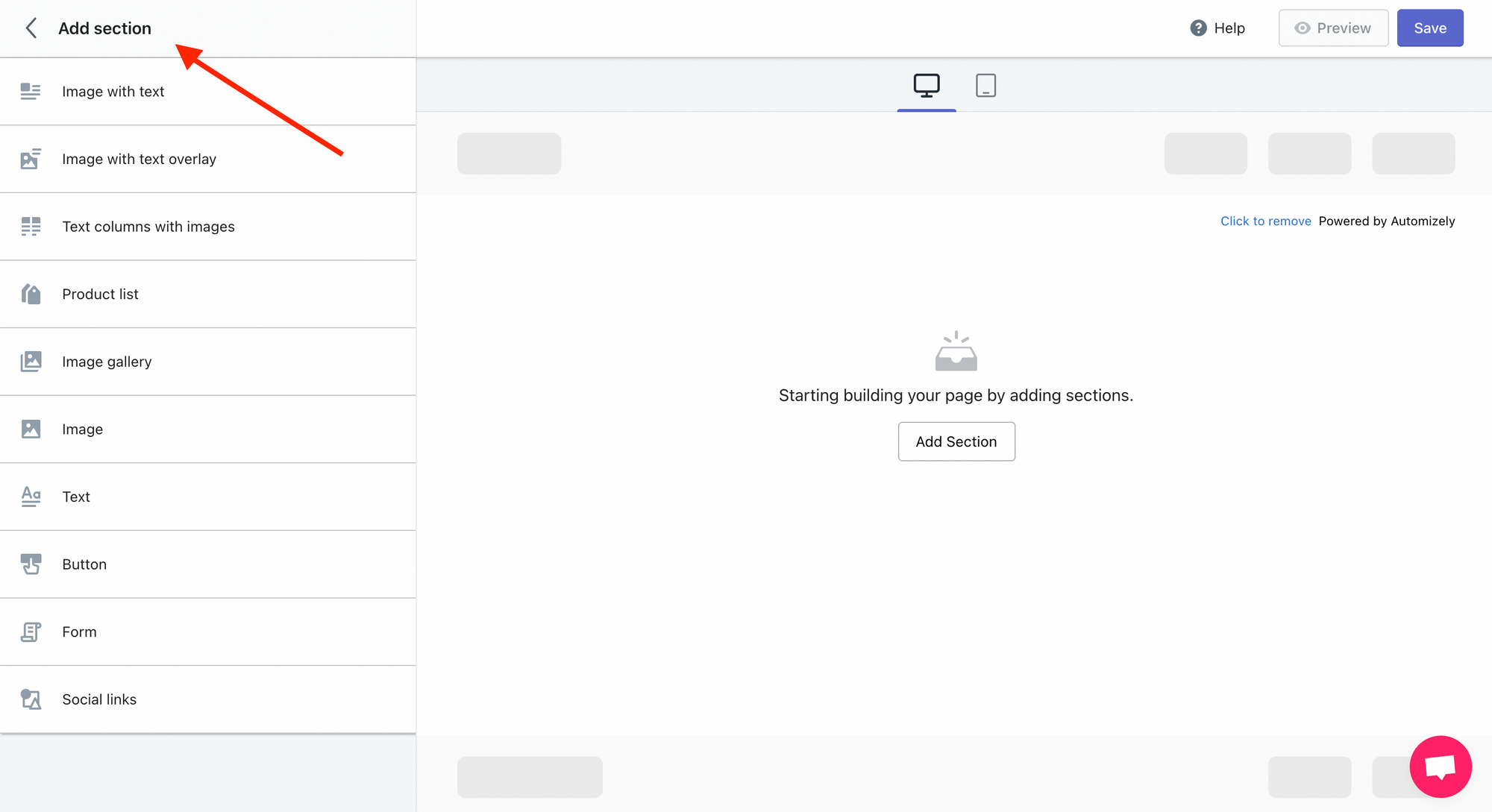 5) Enhance the look and feel of your landing pages from the 'Styles' tab by choosing the right set of Font and colours that go hand-in-hand with your brand.
6) Once you are done with all the style-related changes, make your landing page live from the 'Settings' tab by changing the status to 'Published' and save the changes.
Congratulations, you are ready to serve your visitors with a beautifully customized landing page 😊
Feel free to refer to our help article to get more information on creating your landing pages from scratch.